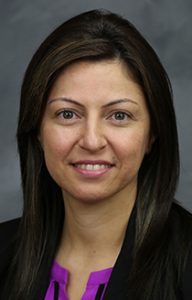 Gilbert, AZ: Rita Abi-Ghanem, PhD, Senior Director of Research and Development at Bio Huma Netics, Inc. (BHN), has been presented with the Association for International Agriculture and Rural Development (AIARD) 2016 Young Professional Award. The Award, presented on June 6 at the AIARD annual conference in Washington, DC, was established in 1990 to recognize early career contributions that demonstrate "commitment to and advocacy for international agricultural development and contributions to improving the quality of life for the world's poor."
Dr. Abi-Ghanem's contributions to AIARD cited during the awards ceremony included her participation in the 2009 Future Leaders Forum, at which she was awarded Outstanding Future Leader; collaboration on the United Nations Biodiversity Program, in which she assessed seed-borne diseases on wheat and barley landraces in a rural area that borders Syria; and participation in the Bill & Melinda Gates Foundation Agricultural Research Connections Workshop in 2013 in Kenya. She also participated in the Iraq Agricultural Extension Revitalization Project, in which she and others from Washington State University and four other American universities trained Iraqi agricultural extension agents and scientists through sessions held in 2007–2008 in Egypt, Syria, and Jordan.
In her acceptance speech, Dr. Abi-Ghanem shared her personal vision of using science to improve agriculture as one important step in achieving a peaceful world. She encouraged other young agricultural scientists to share the vision: "We have the tools and the ability to reduce hunger, which will reduce conflict and make the world a better place for all of us: All we need is the vision, the heart, and the determination to use these tools and abilities well."
BHN CEO Lyndon Smith stated that he is very proud of Dr. Abi-Ghanem and pleased with AIARD's recognition of her accomplishments through this award. "Dr. Abi-Ghanem is a remarkable scientist, and her leadership helps BHN and everyone she works with keep their focus on improving agriculture to improve the world."
Dr. Abi-Ghanem—who is also an adjunct faculty member of the Department of Crop and Soil Sciences at Washington State University and serves as a member of the Humic Products Trade Association Science Committee, the Fluid Fertilizer Foundation Research and Education Committee, and the Arizona Department of Agriculture Pesticide Advisory Committee—was elected earlier this year to be 2017 Chair of the Women-in-Science Committee of the American Society of Agronomy, Crop Science Society of America, and Soil Science Society of America. She was a Fulbright Scholar and earned her doctorate in Soil Science from Washington State University, her MSc degree in Plant Protection from the American University of Beirut, and her BSc in Agricultural Engineering from Lebanese University in Lebanon.
# # #
About Bio Huma Netics Inc.
Founded in Mesa, Arizona, in 1973, Bio Huma Netics, Inc., (BHN) is a global leader in providing sustainable solutions to the world's environmental challenges for agriculture (HUMA GRO®); horticulture, turf & ornamentals (HUMA GRO® TURF); and water & wastewater (PROBIOTIC SOLUTIONS®) through its constantly improving Micro Carbon Technology®. Learn more at www.bhn.us.                                                                                                                           Publication No. BHN-160607-01