Sometimes the Smallest Things Can Unlock Our Greatest Potential
A New White Paper from Huma Gro®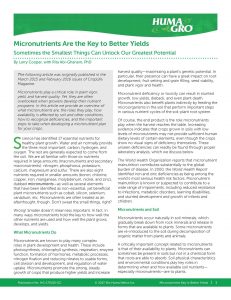 This White Paper is based on an article by Huma Gro® staff that was originally published in the March 2015 and February 2016 issues of CropLife Magazine.
Micronutrients play a critical role in plant vigor, yield, and harvest quality. Yet, they are often overlooked when growers develop their nutrient programs. In this article we provide an overview of what micronutrients are, the roles they play, how availability is affected by soil and other conditions, how to recognize deficiencies, and the important steps to take when developing a micronutrient plan for your crops.
To view the complete Huma Gro® Product Catalog, go to http://bit.ly/HumaGroCatalog2017.