Huma Gro® Ultra-Precision™ Blend Plus Root Dip Increases Strawberry Yields 30%, Univ. of Calif.
Conducted by: Surendra K. Dara, PhD, University of California
Huma Gro® Products: Ultra-Precision™ Blend; plus root dip of Breakout®, Promax®, Vitol®, and Zap®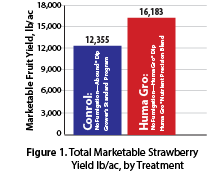 OBJECTIVE
The purpose of this research project was to evaluate how a special blend of fertilizer solution and a root dip made of Huma Gro® products with Micro Carbon Technology® affect strawberry yield when compared with a control program of grower's standard fertilizer and a competitor root dip product.
MATERIALS AND METHODS
Strawberry cultivar San Andreas was grown on 300-feet long bed plots at a University of California research center in Shafter, Calif., on a soil that was not fumigated. A total of two beds were used for this experiment. Each bed had six subplots of 30 ft. long with an 18 ft. buffer between each subplot. This conventional production did not receive pre-plant fertilizer. [Read more…]