Certified Low Input Sustainable Agriculture (certiLISASM)

Nutritional Assurance Program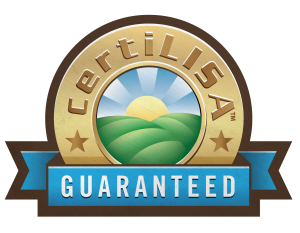 Problem for Growers Today: Conventional or Organic?
With the expansion of environmentally and nutritionally aware consumers, growers face the dilemma of choosing between conventional and organic crop protection and fertilization products. Conventional products (if mismanaged) leave a harmful environmental footprint and are less nutritionally healthy. They can create soil salinity and nutrient run-off, reduce biological activity in soil, pollute water resources, lower nutrient values, and leave chemical residue on produce. Organic products are limited, generally more expensive, and tend to be less effective. In fact, some organic growers may actually supplement with conventional products. Going organic can be confusing for growers, as each of the many organic certifications have different rules, regulations, and limits.
Growers Have a New Choice.
The certiLISASM Nutrient Assurance Certification Program
Progressive growers have a new choice in crop and produce quality assurance: the Certified Low Input Sustainable Agriculture (certiLISASM) Crop Nutrient Certification. This certiLISASM certification is designed for the socially-responsible grower who wants to provide earth-friendly crops that are sustainably produced and that have higher nutritional value. Having certiLISASM Crop Nutrient Certification assures that crops are grown with conventional or organic Huma Gro® liquid soil and plant nutrition products and meet specified nutrient performance levels.
What is the certiLISASM Certification?
Having certiLISASM Certification assures that:
Food, fiber, and forage are produced as Certified Low Input Sustainable Agriculture using Huma Gro® liquid soil and plant nutrition products.
Crop pests and diseases have been treated with Huma Gro® zero-residue, organic bio-pesticides, when necessary.
Licensed Certifiers verify certiLISASM quality crops and produce by:
Confirming that a substantially reduced amount of fertilizer and chemical inputs were applied, compared with conventional fertilizer application, leaving a minimal environmental footprint.
Confirming, through lab analysis, that the produce meets certiLISASM quality as measured by:

Greater nutritional value.
Being free from pesticide residues.
Based on the points 1 and 2, we can infer a longer shelf life.
Why Huma Gro®?
Huma Gro® products with Micro Carbon Technology® (MCT) care for the environment. They are proven to maximize the potential of your crops while reducing your inputs, for significantly better results at an equivalent or lower cost. MCT is the base for all Huma Gro® products. MCT is derived from a natural carbon source that is extracted and refined by Bio Huma Netics, Inc., into extremely small carbon- and oxygen-rich molecules. These tiny carbon molecules provide an ultra-efficient vehicle to move nutrients into the plant. Lab reports prove Huma Gro® MCT-based products increase crop nutrient uptake by 2 to 10 times—or more. This means that 50% to 90% less fertilizer can be used to reach optimum quality and yield.
MCT-based products positively impact the environment by promoting the growth of roots and beneficial microorganisms in the soil, thus changing the soil structure and reducing the required amount of product. Huma Gro® products increase cation exchange capacity, decrease electrical conductivity, increase water penetration and retention capacity, and save irrigation water. Due to the increased plant vigor and health, Huma Gro® treated crops are less susceptible to pest and disease infestations, reducing the need for harmful chemicals.
Consumers Now Have a certiLISASM Choice at the Grocery Store.
Now producers can grow and market to consumers a best choice at a potentially lower cost. Growers certified to display the certiLISASM seal offer consumers more nutritious produce that is free of harmful chemicals and pesticides and is quality guaranteed. In addition, certiLISASM Nutrient Assurance Grown Produce:
Sets a standard for quality in the market.
Is cost competitive with the market.
Is backed by certiLISASM approved lab analysis.
Is truly sustainable.