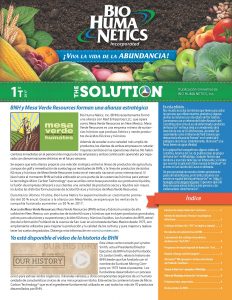 Nos encanta escuchar las historias que tienen para contar las personas que utilizan nuestros productos y algunas de ellas las incluimos en esta edición de The Solution. Comenzamos con un informe de Holden Research and Consulting sobre cómo el uso de determinados productos de Huma Gro® en fresas condujo a un rendimiento de la inversión de más de $8.400/hectárea. ¡Increíble! Tan sorprendente como el informe de Plant Sciences que demuestra la eficacia de Promax® en el control de 8 patógenos de la fresas. Evidentemente, Huma Gro® y las fresas tienen una gran afinidad.
En nuestra sección de Probiotic Solutions® informamos sobre un estudio de caso que involucra a un pequeño pueblo de Nuevo México que necesita reducir el fango en la laguna de su sistema de tratamiento de aguas residuales para cumplir con los requisitos estatales. Después de utilizar Bio Energizer® por 300 días se redujo el fango al punto de que el pueblo recuperó su capacidad de manejo del caudal entrante y pudo cumplir con los requisitos de la autorización sin dragar.
En la página final compartimos algunos videos de Colombia, América del Sur, de publicaciones de grupos de Huma Gro® en WhatsApp. Cualquier historia que involucre a una mula tiene que ser interesante, y el video que muestra la aplicación foliar manual de Breakout® en el arroz en San Jacinto del Cauca no defrauda.
También anunciamos los catálogos nuevos de Huma Gro® en inglés y en español y actualizamos el catálogo de Huma Gro® Turf, y el lanzamiento de la versión en español de nuestro blog de Huma Gro® en https://humagro.com/category/espanol/: esperamos que este blog sirva para acercar incluso a más personas a las conversaciones sobre Huma Gro®.